Our Vision
To empower 60 million MSMEs in Indonesia to become financially aware and enable them to manage and grow their business using our technology platform, starting with bookkeeping and digital payments.
What does BukuWarung do?
With millions of users on board, BukuWarung is poised to build the digital infrastructure for MSMEs, where more financial services & productivity tools can be layered on. Given the nature of the platform, BukuWarung can promptly respond to the high demand for alternative means of micro-loans and extend lending and payment services. Beyond providing loans, as BukuWarung's network grows and transactional data is accumulated, the platform can more effectively risk manage their product offerings and develop into a digital MSME neo-bank with end to end financial services from deposits to insurance. Meanwhile, on the side of productivity SaaS tools, BukuWarung can also build additional modules on top of the current digital ledger and extend upstream to the rest of the supply chain for these MSMEs.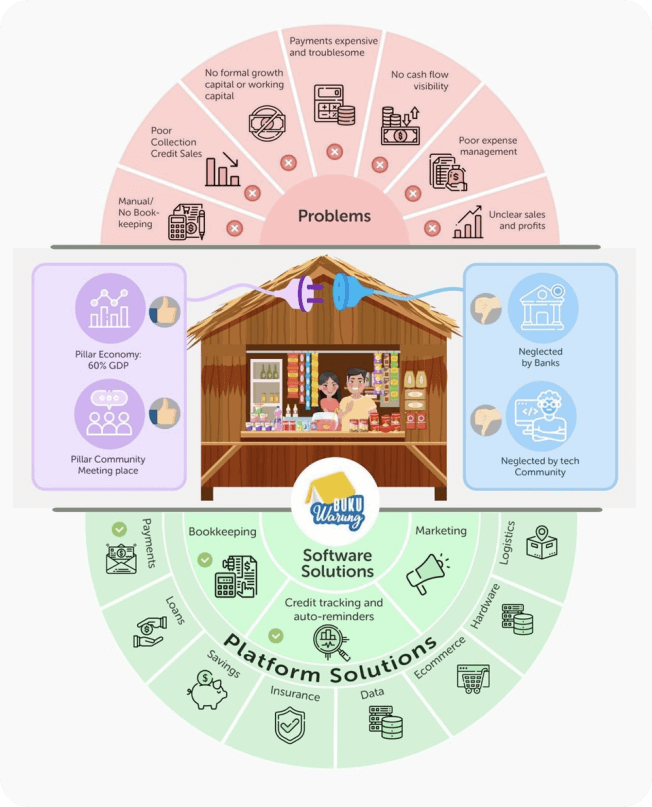 The BukuWarung app helps MSMEs to manage their cash and credit transactions. Merchants receive 3x faster repayments and see increased cash flow due to the automatic payment reminders sent by the app. The app tracks all transactions including credit, expense, and sales, and helps merchants get cash flow visibility through business reports.

BukuWarung accounting app has been used by several millions users
In absence of the Indian UPI-esque solution in Indonesia, we launched a digital payments solution for our merchants, which has seen strong adoption and is already processing over $1.4 billion in annualized payment volumes in <6 months of launch. Our 95% market share in digital payments among all bookkeeping apps is a result of strong focus on solving merchants' core payments needs and providing superior service, by making payments fast, transparent and cost-efficient.
Tokoko (Shopify for MSMEs). With a product-driven focus on empowering MSMEs to come online, we have launched Tokoko, which helps the merchants open their online shop in 3 simple steps. Through our lightweight app, merchants can manage all their orders & catalogs online, and get customers via WhatsApp, Instagram & Facebook
Hmmm got it, but why Indonesia?
Since the beginning of 2020, over 40 million people in Southeast Asia used the Internet for the first time
Indonesia, a Southeast Asia powerhouse of more than 200 million rising middle income consumers has been undergoing a paradigm shift – while the country's volume in online commerce has grown observably faster than her ASEAN counterparts, the MSMEs segment remains largely undigitized despite being a sizable contributor (61%) of GDP. Herein lies a significant opportunity for disruptors to capitalize on this underserved segment with intuitive application tools that can accelerate adoption.
White paper